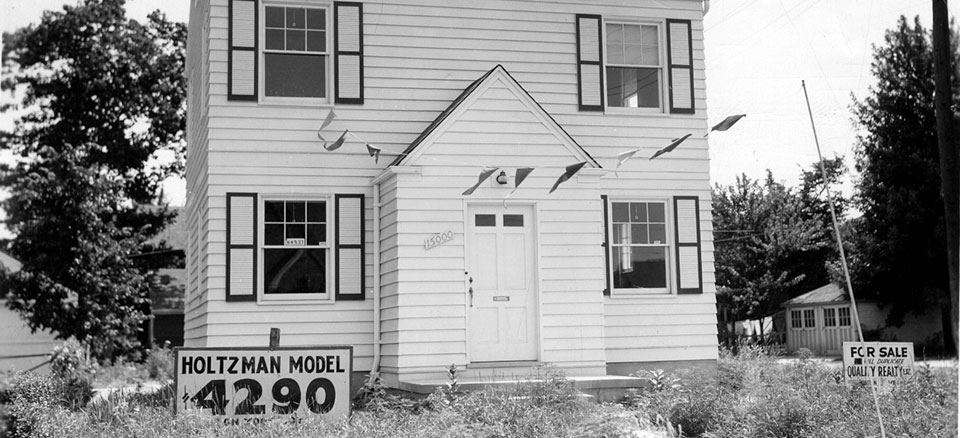 OUR STORY
Village Green was founded by 25 year-old Russian immigrant Joseph Holtzman in Detroit in 1919 while also working at the Ford Motor Company. Joseph Holtzman Homes was Michigan's first licensed single family home builder. Through tenacity and a strong work ethic he developed a reputation for building high quality, high value single family homes for middle-class families. In the 1930's, brother-in-law Nathan Silverman was included and the name changed to Holtzman and Silverman Homes.
During the 1950's, 60's and 70's the second generation of the Holtzman and Silverman families were managing the company as it expanded beyond single family homes into rental apartment communities, condominiums, mixed-use development, retail and other commercial building in Detroit and its growing suburbs. In 1966, under Irwin "Toby" Holtzman (Joseph's son), the Village Green brand began, creating a separate business for the company's growing owned and managed suburban rental apartment communities. Under Toby the company was an industry leader incorporating early new technologies, microwave ovens and solar power into multi-family housing and mixed-use apartment/shopping centers in the city.

Jonathan Holtzman (Toby's son), the first of the third generation, came into the business in the late 1970's contributing technology, marketing, management and hospitality expertise to the business. Holtzman and Silverman, now having built over 25,000 single family homes, increased its focus on luxury suburban apartment communities. In the 1980's the company grew outside of Michigan, establishing itself as an apartment industry leader by being among the first to create multiple individual apartment brands, vertical operating companies and establishing the award winning University of Village Green training program.

From the mid 1980's to early 1990's Jonathan Holtzman bought out the second and third generations of Holtzman and Silverman's interest in Village Green. He introduced the business model of continuous evolution, shaping Village Green into a luxury, hospitality oriented private company. Its customer centric "Lifestyle for Rent" paradigm emphasizes exceptional service to residents and clients. It manages its own and other owner's communities, both for long-term value. The company has grown considerably across the Midwest to East Coast in total number of communities, brand new developments and acquisitions, brand segment offerings and third party management services to become the largest luxury rental apartment owner/operator in Detroit and the Midwest, and one of the top ten private property development/management companies in the country.

During this time the company introduced V-Suites corporate short-term housing, Village Park suburban brand for a younger market, Regents Park suburban/urban brand for mature renters and City brand in urban city centers and suburban/urban markets.

The company has eight offices managing urban and suburban properties. New development and acquisition emphasis is on urban city centers and CBD's throughout the Midwest, East Coast and Toronto. The apartment communities consist of building new mid-rise and high-rise, and redeveloping historic apartments and historic office buildings for adaptive reuse. In 2000 the company increased its commitment to being green with LEED, NGBS certifications and Class G measurement systems, along with social initiatives that include company wide charity fundraising events for associates and residents.

In 2011 Compatriot Capital made a long-term investment in Village Green. Compatriot directs the real estate investment strategy for Sammons Enterprises, a diversified holding company with financial services, industrial equipment and real estate businesses. With over $71 billion in assets, Sammons ranks among the largest privately held companies in the world. Compatriot selected Village Green for its long history, quality management team, strategic focus and reputation for customer service.
Village Green has won over 90 awards, including the CEL National Multifamily Customer Service Award for Excellence for six consecutive years (2009 – 2014). In 2014 Village Green was honored by the Detroit City Council with its Spirit of Detroit Award for contributing to the city's revitalization.
OUR MISSION
Passionately creating and delivering a unique and exceptional lifestyle for rent with complete devotion to pleasing you our residents, associates and clients.